Picture Books
Little Boo
By Stephen Wunderli

The leaves fall, the wind blows, and one little pumpkin seed tries and tries to be scary. But he doesn't scare anyone . . . not the snowflakes in winter, not the bees in spring, not even the watering can!
The wind tells him to be patient—he'll be scary soon enough. But waiting is hard. Will the little seed ever be really, truly scary?
Available: Caistorville
Boo to You Winnie the Pooh
Adapted by Bruce Tolkington

Winnie the Pooh and his fellow friends from the Hundred-Acre Wood try to think up a way to prevent Piglet from being spooked on a shivering, creaking, and howling Halloween eve, instead of having to cancel the holiday altogether.
Available: Smithville
Otter Loves Halloween!
by Sam Garton
Halloween is Otter's favorite holiday. It's also a very busy time for her and Teddy. With so much to do, it's a good thing she's a Halloween expert!
Available: Wellandport
Click, Clack, Boo
by Doreen Cronin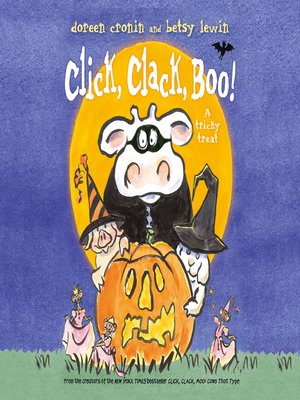 Farmer Brown does not like Halloween. So he draws the shades, puts on his footy pajamas, and climbs into bed.
But do you think the barnyard animals have any respect for a man in footy pajamas? No, they do not. For them, the Halloween party has just begun. And we all know these critters far prefer tricks over treats.
There are big surprises in store for Farmer Brown!
Available: Caistorville and Smithville
Enzo's Very Scary Halloween
by Garth Stein

When Halloween comes around, Enzo doesn't know what to expect. Jack-o'-lanterns light up the streets, giant spiders weave webs on porches, and ordinary lawns become creepy graveyards while every child and dog transforms into a creature of some kind—including Enzo!
Enzo the dragon is determined to protect fairy princess Zoë from the monsters and goblins in their neighborhood, but when things get a little too scary, his family is there to reassure him that everything is make-believe and only meant to be fun—just like the wonderful trick-or-treat parade that ends this spook-tastic night!
Available: Wellandport
Junior Readers
The Witches
by Roald Dahl
This is not a fairy-tale. This is about REAL WITCHES. Real witches don't ride around on broomsticks. They don't even wear black cloaks and hats. They are vile, cunning, detestable creatures who disguise themselves as nice, ordinary ladies. So how can you tell when you're face to face with one? Well, if you don't know yet you'd better find out quickly-because there's nothing a witch loathes quite as much as children and she'll wield all kinds of terrifying powers to get rid of them.
Available: Smithville and Wellandport
More Scary Stories to Tell in the Dark
Retold by Alvin Schwartz
All those who enjoyed shuddering their way through Alvin Schwartz's first volume of Scary Stories To Tell In The Dark will find a satisfyingly spooky sequel in this new collection of the macabre, the funny, and the fantastic.Is it possible to die — and not know it? What if a person is buried too soon? What happens to a thief foolish enough to rob a corpse, or to a murderer whose victim returns from the grave? Read about these terrifying predicaments as well as what happens when practical jokes produce gruesome consequences and initiations go awry.Stephen Gammell's splendidly creepy drawings perfectly capture the mood of more than two dozen scary stories — and even a scary song — all just right for reading alone or for telling aloud in the dark. If You Dare!
Available: Caistorville and Smithville
Coraline
by Neil Gaiman

Coraline discovered the door a little after they moved into the house.
When Coraline steps through a door in her family's new house, she finds another house strangely similar to her own (only better). But there's another mother there and another father, and they want her to stay and be their little girl. They want to change her and never let her go.
Available: Wellandport
It's Halloween You 'Fraidy Mouse
by Geronimo Stilton

It's Halloween on Mouse Island, and it seemed like everyone was out to get me, Geronimo Stilton! My cousin Trap kept pulling scary pranks on me. And then my sister Thea told me I had to write a book about Halloween in less than one day! Before you could say boo, my nephew Benjamin had dragged me to a graveyard to do research. There I met a very spooky mouse who — yikes! — tried to lock me up in her coffin! Oh, how would a 'fraidy mouse like me ever survive the year's scariest holiday?
Available: Smithville
Headless Halloween
by R.L. Stine

Brandon loves to scare other kids. This Halloween he buttons his shirt up over his head and parades around as a headless freak! But even Brandon gets queasy at the creepiest Halloween party of all time, where guests bob for rats and eat doughnuts filled with worms!
Available: Caistorville and Smithville