Moms are Awesome. They took care of us when we were small, and are our best friends when we grow up. The books I most associate with my mum are the Little House on the Prairie books, I am not sure how many times we read them together but I do know they fell apart on me! What books make you think of your mum?  Here are some awesome and touching books about interesting moms that you can read together as adults and build new memories!
Where'd You Go, Bernadette? by Maria Semple
A compulsively readable and touching novel about misplaced genius and a mother and daughter's role in an absurd world.
Bernadette Fox is notorious. To her Microsoft-guru husband, she's a fearlessly opinionated partner; to fellow private-school mothers in Seattle, she's a disgrace; to design mavens, she's a revolutionary architect, and to 15-year-old Bee, she is a best friend and, simply, Mom. 
Then Bernadette disappears. It began when Bee aced her report card and claimed her promised reward: a family trip to Antarctica. But Bernadette's intensifying allergy to Seattle – and people in general – has made her so agoraphobic that a virtual assistant in India now runs her most basic errands. A trip to the end of the earth is problematic. 
To find her mother, Bee compiles email messages, official documents, secret correspondence – creating a compulsively readable and touching novel about misplaced genius and a mother and daughter's role in an absurd world.
Available as an E-Book and in E-Audio.
Feeding my Mother by Jan Arden
Based on her hugely popular Facebook posts and Instagram photos, Feeding My Mother is a frank, funny, inspirational and piercingly honest account of the transformation in Jann Arden's life that has turned her into the primary "parent" to her mom, who is in the grip of Alzheimer's.
Jann Arden moved in to a house just across the way from her parents in rural Alberta to be close to them but also so they could be her refuge from the demands of the music business and a performing career. Funny how time works. Since her dad died in 2015, Jann cooks for her mom five or six times a week. Her mom finds comfort in her daughter's kitchen, not just in the delicious food but also just sitting with her as she cooks. And Jann finds some peace in caring for her mom, even as her mom slowly becomes a stranger. "If you told me two years ago that I'd be here," Jann writes, "I wouldn't have believed it. And yet we still fall into so much laughter, feel so much insane gladness and joy. It's such a contrast from one minute to the next and it teaches me constantly: it makes me stronger and more humble and more empathetic and caring and kind." 
The many people who are dealing with a loved one who is losing it will find inspiration and strength in Jann's wholehearted, loving response and her totally Jann take on the upside-down world of a daughter mothering her mother. Feeding My Mother is one heck of an affirmation that life just keeps on keeping on, and a wonderful example of how you have to roll with it.
Available in Caistorville and as an E-Book.
Wild by Cheryl Strayed
At twenty-two, Cheryl Strayed thought she had lost everything. In the wake of her mother's death, her family scattered and her own marriage was soon destroyed. Four years later, with nothing more to lose, she made the most impulsive decision of her life. With no experience or training, driven only by blind will, she would hike more than a thousand miles of the Pacific Crest Trail from the Mojave Desert through California and Oregon to Washington State — and she would do it alone.
Told with suspense and style, sparkling with warmth and humor, Wild powerfully captures the terrors and pleasures of one young woman forging ahead against all odds on a journey that maddened, strengthened, and ultimately healed her.\
Available in Smithville, Caistorville, Wellandport, as an E-Book and in E-Audio.
Valley of Amazement by Amy Tan
Amy Tan's The Valley of Amazement is a sweeping, evocative epic of two women's intertwined fates and their search for identity, that moves from the lavish parlors of Shanghai courtesans to the fog-shrouded mountains of a remote Chinese village. 
Spanning more than forty years and two continents, The Valley of Amazement resurrects pivotal episodes in history: from the collapse of China's last imperial dynasty, to the rise of the Republic, the explosive growth of lucrative foreign trade and anti-foreign sentiment, to the inner workings of courtesan houses and the lives of the foreign "Shanghailanders" living in the International Settlement, both erased by World War II. 
A deeply evocative narrative about the profound connections between mothers and daughters, The Valley of Amazement returns readers to the compelling territory of Amy Tan's The Joy Luck Club. With her characteristic insight and humor, she conjures a story of inherited trauma, desire and deception, and the power and stubbornness of love.
Available in Smithville, Caistorville, Wellandport and as an E-Book.
Plus a couple if your little ones aren't grown yet. 
Are You My Mother by P.D. Eastman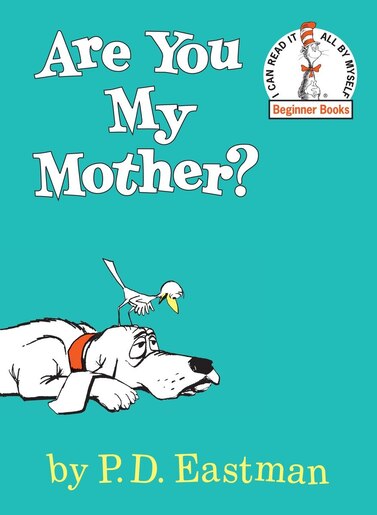 A baby bird goes in search of his mother in this hilarious Beginner Book edited by Dr. Seuss. When a mother bird's egg starts to jump, she hurries off to make sure she has something for her little one to eat. But as soon as she's gone, out pops the baby bird. He immediately sets off to find his mother, but not knowing what she looks like makes it a challenge. The little hatchling is determined to find his mother, even after meeting a kitten, a hen, a dog, and a Snort. The story with a timeless message of the bond between mother and child.
Available in Smithville, Caistorville and Wellandport.
I Love You Forever by Robert Munsch
A young woman holds her newborn son
And looks at him lovingly.
Softly she sings to him:
"I'll love you forever
I'll like you for always
As long as I'm living
My baby you'll be."
So begins the story that has touched the hearts of millions worldwide. 
Available in Smithville and Caistorville.
Share your favorite mum stories and pictures with us!